From Homelessness to Stanford Law – First Generation Student Joins Law School Pipeline Program | FIU News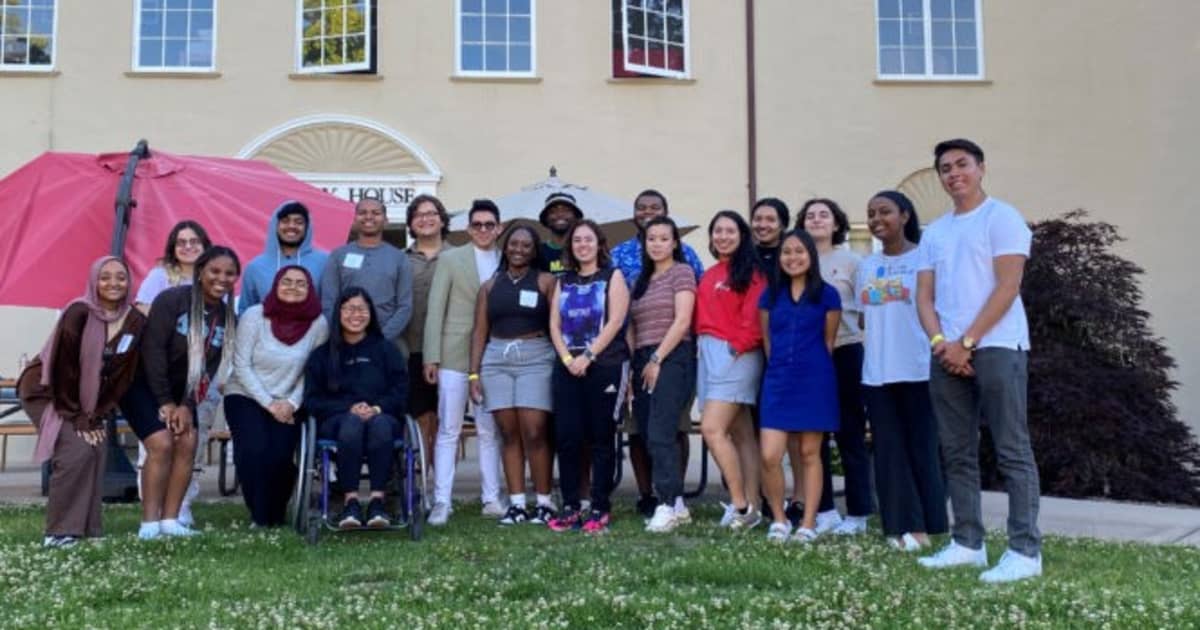 When Luis Moros arrived in the United States from Venezuela with his mother, he was 14 years old and spoke almost no English. For more than a year, they moved from one homeless shelter to another.
It was a difficult existence, but Moros says his mother, facing her own challenges as a single mother, never gave up on him and his dream of pursuing an education and, eventually, a career in politics.
Every time he heard "no" it wasn't a rejection on his part, she said, it was a "new opportunity" that presented itself.
Moros took those words to heart and, now as a junior at FIU pursuing a dual degree in political science and public affairs, he embraced every new opportunity in a way that continues to inspire his peers and mentors.
Not only has he interned at the U.S. House of Representatives, the Cato Institute, and the Organization of American States, this summer Moros was one of 20 students accepted from across the country for the inaugural class of the Stanford Law Scholars Institute (SLSI) at Stanford University.
The institute is a new leadership and law school pipeline program designed to support and train undergraduate students who wish to explore a career in law.
"It was a once-in-a-lifetime experience," said Moros, 20, who is interning in Washington, DC, this summer with the Bipartisan Policy Center. "As a first-generation student, I really didn't expect to be accepted into a program at the second-highest ranked law school in the country. It was life changing."
The students spent two weeks at Stanford, living in the dorms and experiencing life as a law student, including taking classes, meeting current students and faculty, and learning everything from how to apply to law school to choose a career path.
The program is specifically designed to overcome the barriers that underrepresented minority, first-generation, or low-income undergraduate students might face in accessing a legal education.
"I think the program helps demystify law school by giving students a quick glimpse of what the experience would be like, connecting them with professors and current law students who can serve as mentors," said Diego Zambrano, an associate professor of law at Stanford who served as Moros' faculty mentor.
"Our hope is that this will make it easier for excellent undergraduates like Luis to apply to law school and attend with a deeper understanding of the law."
Beyond the weekly academic and social activities on campus, the SLSI cohort will receive assistance with the law school application process, including a free LSAT prep course and ongoing coaching until they enter law school. law School. Additionally, the program offers online training, a speaker series, and office hours with faculty mentors throughout the following year.
Moros has already made his mark in many areas of CRF – receiving numerous awards and scholarships for student leadership, in addition to being named a Millennium Scholars, Hamilton Scholars by CRF in DC, and a founding member and student ambassador of the recently launched Maurice A Institut Ferré for civic leadership.
Agatha Caraballo, founding director of Institut Ferré, said Moros embodies the same spirit of servant leadership that Ferré modeled as mayor of Miami.
"Luis Moros is an exceptional young man of unlimited potential, passionate and committed to public service and civic engagement," she said. "As an Institut Ferré scholarship holder and chair of our engagement committee, Luis organized several workshops on civic literacy and leadership and led a multidisciplinary group of students who ranked 13th nationally. . It's up to us contest to increase civic literacy and awareness on campus.
"Luis continues to inspire me and many others with his dedication and drive to make the world a better place for everyone," she added.
Through her work with DC policymakers, Moros hopes to help other immigrants learn to navigate the American education system, engage civically, and pursue their dreams, whatever they may be.
He writes two books – one in Spanish to demystify the American educational system for Hispanic students new to the United States and the other titled "The Art of Persuasion and the Unknown Skill for a Successful Career" – on the effective communication and how persuasion can be a tool for success – which will be published in December.
Zambrano, who teaches civil procedure at Stanford, said Moros was already on track to achieve his dreams.
Like Moros, Zambrano immigrated to the United States from Venezuela when he was 14 years old.
"I see in Luis a wonderful example of all the talented people who have been forced to leave Venezuela," he said. "Luis' story is a deeply American story, arriving on American shores in search of a better life.
"He represents some of the best qualities of immigrants in this country. I am sure he will make an excellent law student, lawyer and future leader.
---
For more information on becoming an intern in Washington, DC, email Eric Feldman at ericf@fiu.edu.