I mourn my Law School Prefect CJ Martha Koome over attorney Evans Monari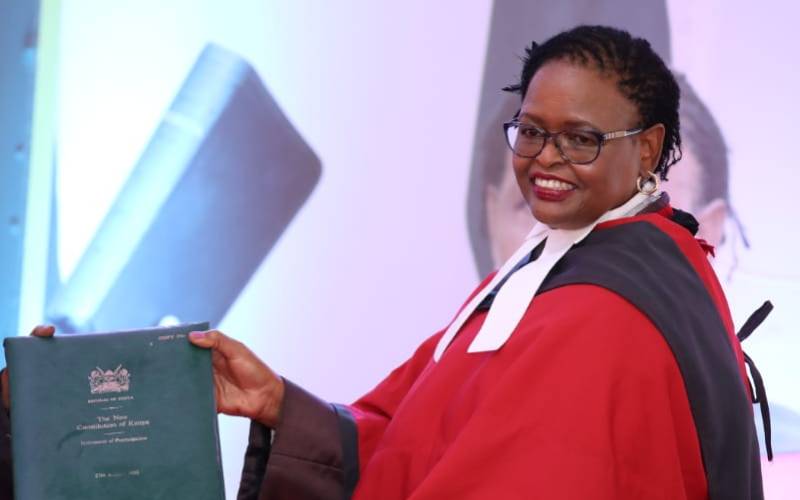 [ad_1]
Chief Justice Martha Koome praised the late lawyer Evans Monari as a "gallant and shrewd" lawyer.
Monari died on Monday evening (October 4) in Nairobi hospital after a long illness, family spokesman Ken Monari said.
According to Koome, Evans was instrumental in organizing the ceremony to celebrate 34 judges, who were promoted in June this year.
Describing Evans as an "always jovial person with a deep sense of humor," Koome, in his statement on Tuesday, said: "My last interaction with him was in July of this year when, in his jovial manner, took the head of the organization a wonderful congratulation to me and other colleagues, who have been promoted to various positions in the judiciary.
"In him rested this gallant and shrewd lawyer who represented the high, powerful and even poor clients who consulted him with the same measure and the same professionalism," Koome added.
The CJ revealed that Evans was his classmate and Prefect of the Kenya School of Law, class 1987.
"For Law School 1987, we mourn for Evans, our Warden and Leader who sacrificed his time and other resources to ensure we were fully coordinated to support each other, especially in times of mourning and others. upheavals, "she said.
Monari was a lawyer in the High Court of Kenya and was a partner of Coulson Harney Advocates, where he headed the Dispute Resolution and Arbitration Department.
He goes down in history for representing former police commissioner Hussein Ali, who faced charges of crimes against humanity at the Hague-based International Criminal Court (ICC) following the post-violence. 2007-08 election in Kenya.
Various leaders, including President Uhuru Kenyatta, mourned the late Evans Monari, describing him as "one of the country's leading advocates".
[ad_2]