In the last lap, law school goes swimming for Claire Adkins '22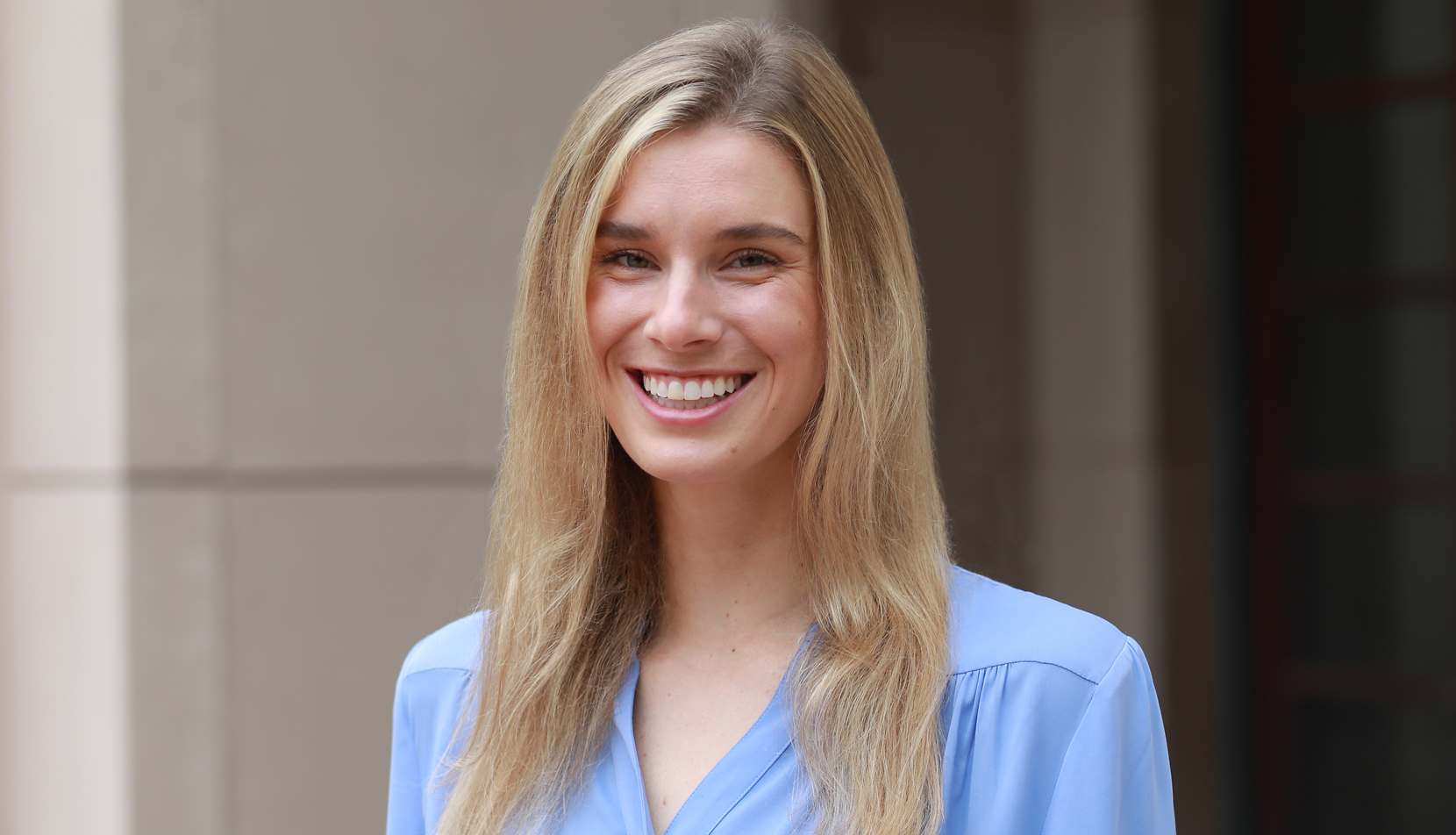 [ad_1]
Being a team leader comes naturally to third-year law student Claire Adkins, either as an accomplished swimmer or as a mentor to her classmates at the University of Virginia Law School.
The native of Martinsville, Va., Received a bachelor's degree in political science from James Madison University and an LL.M. in international human rights law and practice from York University in England.
At UVA Law, Adkins is a Law and Public Service Researcher, Submission Development Editor for the Virginia Journal of International Law, and Civil Rights Clinic participant. Professor Richard Schragger.
In our occasional "Star Witness" series, Adkins spoke about how her parents' community leadership set her on track for law school and her mission to make the most of her senior year in Charlottesville.
Tell us about your career as a swimmer.
I started swimming when I was 4 years old. As a child, I loved water and had a natural ability to swim. Growing up, I spent most of my time in the pool, competing for the local YMCA. During my freshman year in high school, I joined the CCA Marlins, a club team located in Roanoke, to train and run more competitively. Six days a week, I drove from Martinsville to Roanoke, about two hours of driving a day. This experience came with sacrifices, like missing the return game from my high school, but it taught me discipline and allowed me to become a more competitive athlete. I also competed for my high school swim team, as the only member of the team. In my senior year of high school, I won a state championship in the 200-yard freestyle.
I was fortunate to receive a track and field scholarship to swim in Division I at James Madison University. Representing my school in competitions has been a very enriching experience. In high school, I often viewed swimming as an individual sport, focusing on my performance in the pool. But on JMU swim and dive, I swam for the team rather than swimming just for myself. I focused more on being a good teammate and helping my teammates achieve their goals.
My swimming career ended on a high note when I won a Colonial Athletic Association title in the 400 medley yardage and was named the JMU Female Athlete of the Year. In my final year, I also served as chair of the JMU Student-Athlete Advisory Committee.
Although I am proud of these successes, swimming for JMU has given me so much more than rewards. I developed lifelong friends and grew as a person developing leadership, resilience, and communication skills that transferred to law school and work environments.
Why the Faculty of Law?
I decided to pursue a legal career to make a difference. From an early age, my parents, through their leadership roles, instilled in me the importance of community involvement. My mother, Kim Adkins, was mayor of Martinsville when I was in high school and ran for the Virginia State Senate while I was in college. My dad, Jeff Adkins, has been a high school basketball coach for over 30 years. From their influences, I wanted a career where I could be involved and help my community. In high school, I got particularly interested in a legal career when my English teacher Candace Owen-Williams told me that she thought I had the skills to be a lawyer.
At JMU, I pursued this interest by taking courses, such as constitutional law and international law. I very much enjoyed legal reasoning and research, and understanding the broad implications of court opinions. I was also particularly interested in human rights law, which brought together my interests in legal studies and community engagement. After graduating from JMU, I pursued my Masters in International Law and Human Rights Practice at York University in England. This lucky experience allowed me to gain cultural and global awareness and heightened my interest in pursuing a law degree in the United States.
Describe your most interesting experience in law school.
As a Legal Writing Fellow for Professor Sarah Stewart Ware, I have assisted first year law students with their legal research and writing. I edited the students' writings and met them individually to guide them throughout the school year. I learned a lot from Professor Ware's advice on how best to tailor edits and advice to an individual student. I also learned to be a better communicator and mentor.
I have found the service as a member particularly valuable over the past year. Like most people, I found the last year difficult. We had limited social interactions or in-person activities (due to valid health issues). As a fellow, I have had the opportunity to work with law students and bond with my colleagues during editing experiences. This role gave me some normalcy and helped me focus on goals outside of the classroom. Overall, it was encouraging to see the progress of the students throughout the year.
What's the next step for you?
As this is my final year at UVA Law, I plan to take advantage of UVA's excellent staff by engaging and learning from UVA faculty, librarians and administrators before I leave. I also want to hang out with my classmates, explore Charlottesville outside of the classroom by hiking and visiting wineries, and hope to play a few UVA Law softball games.
For next fall, I was fortunate to take an internship with US District Judge Norman K. Moon of the Western District of Virginia. After my internship, I plan to work at Hogan Lovells in Washington, DC
In terms of long term career goals, I have a great interest in continuing to work on civil rights and human rights. In the summer following my first year of law school, I worked with the Disability Rights Section of the Civil Rights Division of the Ministry of Justice and found the job very interesting. and rewarding. Last summer, I continued to be interested in human rights while working on a pro bono asylum issue with Hogan Lovells. Hogan Lovells has an active pro bono practice, and I intend to seek opportunities to work on asylum issues and civil rights cases during my stay. Due to my positive experience with the Disability Rights Section, I have an interest in pursuing a job at the Ministry of Justice at some point in my career.
[ad_2]