King's Inns unique medical law course proves to provide valuable insight into the legal framework governing medical practice in Ireland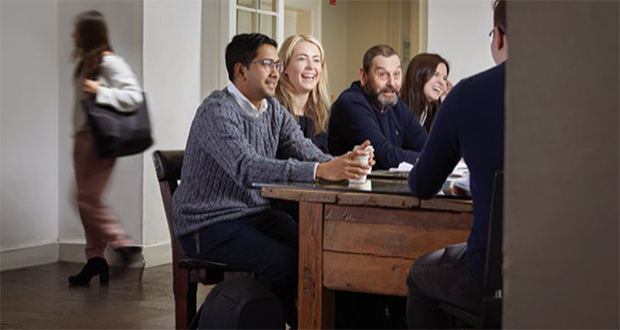 Coordinated by Colm Scott – Byrne BL, the lectures are delivered by expert practitioners, both legal and clinical, and are offered online for professionals to participate remotely.
King's Inns is now accepting applications for the Advanced Diploma in Medical Law. The course will start on Friday October 16, 2020.
The field of medical law is a growing and evolving environment that presents emerging legal and ethical issues, primarily due to advances in medical treatment. The Advanced Diploma in Medical Law provides a comprehensive overview of medical law with an emphasis on national and European law in this area. Students participating in the course will develop an understanding of the practical application of the principles of medical law, the legal obligations of healthcare professionals, and regulatory practice.
The course is open to those working in all areas of health. It is issued by leading industry experts, including lawyers and notaries specializing in this field, as well as medical experts. The course will provide participants with a comprehensive and working knowledge of the legal framework affecting medical law, including medical negligence, consent to treatment, confidentiality, end-of-life decision-making, professional regulation and evidence of 'experts.
The medical law course enables participants to explore ethical and legal issues that can arise in the workplace, recognize issues that give rise to potential legal liability, and understand the practice of healthcare in its legal and social context. The course includes panel discussions with leading experts discussing the various issues that arise in practice and a mock mental health court where students will see from start to finish how the whole process will work. Students will also have tutorials in small groups that will discuss the various topics that have arisen during the course.
This course will be of interest to all healthcare professionals, those working in the legal departments of medical institutions and administrators who wish to review and update their knowledge on legal matters. It includes health and nursing professionals, members of the legal profession, hospital administrators and government officials with health care responsibilities. Members of ethics committees, the pharmaceutical industry and other professionals working in the health sector will also find the benefits program there.
Physicians should note that this course has been approved for 15 external CPD credits by the College of Psychiatrists of Ireland, based on full attendance and course completion.
External CPD credits approved by medical education bodies in Ireland (College of Psychiatrists, Royal College of Physicians, College of Anesthetists and College of General Practitioners) enjoy mutual recognition and approval between these bodies.
This advanced medical law degree is available to study via blended distance learning / online with most courses recorded using e-learning software allowing students to catch up on their free time and study remotely through our virtual learning environment. The advanced diploma schedule is specially designed to meet the needs of participants who hold full-time employment. The course takes place over a period of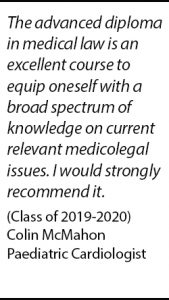 four weekends on Friday from 5.45 p.m. to 9 p.m. and Saturday from 9.30 a.m. to 3 p.m. Hold a Higher Diploma in Medical Law; one participant will have to complete two written assignments.
The application deadline for the 2020/2021 course is Friday, September 25.
There are no admission requirements for this course, but it is advisable to register early as places are limited.
For more information and to apply online, please visit the King's Inns website here.
About King's Inns
Based between Henrietta Street and Constitution Hill in Dublin 1, the Honorable Society of King's Inns (King's Inns) is renowned for its professional legal education and training in all areas of law. In addition to training future qualified lawyers, the School extends its reach to a large community of people from non-legal backgrounds offering a wide range of accessible part-time and online courses in specialized areas of law.
With courses taught by expert practitioners, students at King's Inns include leaders, advocates, innovators and game changers, from industries across Ireland and abroad. The school is also a center of excellence in promoting the use of the Irish language in law.
King's Inns is located in central Dublin with easy access to onsite parking and close to all major public transport links. For more information, please visit kingsinns.ie.

Sponsored by King's Inns.