Pike: An Open Letter to the New Law School Graduate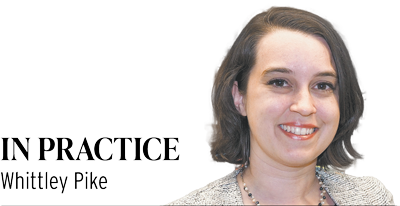 Dear New Law School Graduate,
You did it! You've earned a bachelor's degree, your law degree, and years of life experience to bring you to this exact moment. Take the time to reflect on these accomplishments. You'll likely be faced with the pressure of studying for the bar exam, or perhaps looking for your next career move, and those things will work out. We believe in you, and more importantly, you should believe in yourself, because look what you just accomplished!
Our challenge is to think about how you will present yourself and your colleagues as a colleague in the legal community. You're no longer a student, and it can be a difficult landscape to navigate as a new lawyer. So what do the best professionals know and how do they make their marks early in their careers?
The best early career professionals actively participate in the bars. The Indiana State Bar Association, IndyBar, and Marion County Bar Association are just a few of your fantastic options for formal engagement with peer attorneys. These organizations make the obvious service of helping you connect to programming to earn your required CLE hours, but membership is so much more than meets the eye. Bar association social events, philanthropic service days, and pro bono engagement opportunities give you the chance to make friends outside of your office and give back in meaningful ways, relieving stress and upping the ante. morale throughout this next chapter. You might meet your mentor or your next best friend at a bar conference.
Whether through a young lawyers section of a bar or a more informal meeting with former classmates, the best professionals regularly connect with their peer support network. These are the people who develop their careers at the same stage as yours – your colleagues and friends who are struggling to adapt to life in the law firm or to grow their families or to advise clients on problems. new and new. Finding a support network to grow with is an important part of your professional identity.
The best professionals are smart about the commitments they make. If you work in a law firm and you've paid close attention, you'll probably find that your senior associates are your best customers. Your relationships within your own organization may be the most critical in terms of growth potential over the next two years of your career. Getting to know partners and supervisors well will benefit you and the organization as a whole. Delivering a good job will be your best shot every time.
But what exactly do you deliver? There will be research projects and document review, clients to meet and memos to write, pleadings to file and cases to follow; this is all your billable work. In addition to these elements, you will have the possibility of contributing in a "non-billable" way. When thinking about both the billable and non-billable contributions you make to your workplace, think about how you will measure success for yourself on these projects – what will serve both the essential mission of your organization and will help you as a professional?
Perhaps you can write an article in a periodical, and the research topic could be something that helps your current clients or something that reflects the niche practice you hope to develop in the future. You could support pro bono projects for causes that are close to your heart or that require special skills that you hope to develop. Non-billable time can contribute to your own professional development or distract you from the things that absolutely need to be done every day. No new professional can do all of these things, but the best early career professionals are smart about the projects they take on and continually deliver on their commitments.
Finally, the best early career professionals ask for help. There will be a day next year when you will feel overwhelmed. Look for those trusted relationships and talk to those who have been there or those who are going through it right now as well, especially if your peer network includes people who work in different organizations. Sometimes a little distance is just the change in perspective you need to be able to sort through what you're going through. You may have resources directly within your own organization, especially if you have an in-house professional development or human resources manager. As a member of our legal community, you always have the support of the Judges and Lawyers Assistance Program. Of course, your senior supervisors and partners within your own organization also want to see you succeed.
Congratulations, new law school graduate. You are going to be one of the best.•
Whitley Pike is Senior Associate Director of Professional Development at Indiana University Robert H. McKinney School of Law. The opinions expressed are those of the author.