Sebastian Johnson studies Kant, Western philosophers on his way to law school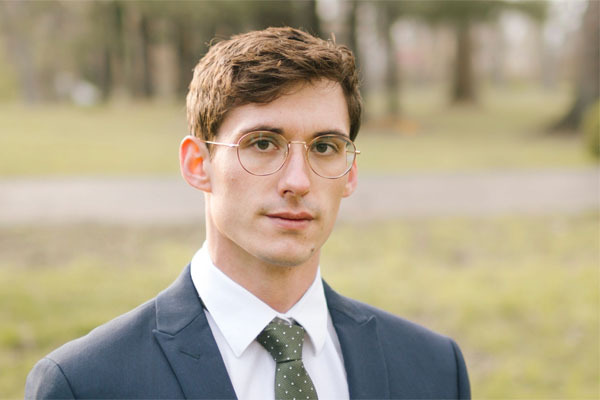 Editor's Note: The Happy Beginnings series features recent Ohio University College of Arts and Sciences graduates embarking on careers, college, and service.
Ohio University alumnus Sebastian Johnson is considering a career in constitutional law.
He earned a BA in Philosophy from Honors Tutorial College (HTC) this spring, and his next stop is the University of Cincinnati College of Law in the fall.
His intellectual journey at OHIO spanned Enlightenment philosophers, influential Western writers, and even visits to Oxford and Cambridge.
"I wouldn't say I followed a 'path' to get where I am today. On the contrary, I set myself a goal and pursued it, come what may. I knew I wanted to go. in law school and I knew it required good grades, which meant I had to take my studies seriously. Studying something that interested me made it easier and more intellectually satisfying. It was just that I I was doing something that I was interested in (philosophy) and that I took it seriously, like going to class, going to the office hours and building great relationships with my professors," Johnson said.
Honors Tutorial College gave Johnson the opportunity to take a multitude of philosophy courses and conduct individual research with a professor each semester.
"It's easier to take studies very seriously when you're so interested in the material, and the narrow focus has allowed me to build relationships with many members of the philosophy department," Johnson added.
One such relationship was with his mentor professor Alyssa Bernstein, Ph.D., with whom he spent hours reading and discussing the work of Immanuel Kant, among others. Kant was an 18th-century German Enlightenment philosopher whose writings on critical philosophy, including the "Critique of Pure Reason", still influence modern rationalism, ethics, and aesthetics.
Johnson's HTC dissertation, "The Rule of Law and Its Normativity: A Kantian View," which probed the connection between law and morality, was the culmination of four years of hard work and critical reflection.
"From my philosophy training at Ohio University, I learned, first, how to critically analyze and interpret dense arguments. Second, I learned how to construct and translate arguments into concise writing. and organized.Third, and perhaps most importantly, I learned how to effectively and efficiently manage my time.Whatever career path one chooses, these are valuable skills that studying the philosophy will help cultivate," Johnson said.
Johnson was also an undergraduate fellow at the Menard Family George Washington Forum, where he met every two weeks with professors and other fellows to "read and discuss some of the most influential books for Western society. During my last year we took a trip to the UK where we discussed the books we had read with professors from Oxford and Cambridge."
He also completed a PACE (Career Exploration Assistance Program) internship at the Institute of Applied and Professional Ethics.
Q&A with Sebastian Johnson
Q: Who were your favorite teachers and how have they impacted your life?
A: Dr. Bernstein was my favorite teacher. I took almost all the courses she offered, I took several tutorials with her and she was my thesis director. She is undoubtedly an excellent teacher and philosopher. However, she was also a friend. Completing a thesis comes with an immense amount of stress. A few of our meetings have been spent talking about life projects, struggles, and other interesting books. Having a teacher that you can engage with not only academically but also in a friendly way was great.
Dr. Bernstein has always encouraged me to "enjoy learning", which may seem trivial at first – if only it were that simple. I found his advice to be much more insightful than I originally thought. I now understand that these are tips on how to approach a task, such as a mid-term paper, a final paper, or a thesis. Instead of understanding these tasks as "something to do", I began to see them as opportunities to engage in philosophy and learn something new. An opportunity to flex the mental muscles, so to speak. This will definitely be a useful tip for law school.
Q: What was the toughest hill to climb (not counting Jeff Hill) in OHIO? And how did you overcome any challenges or obstacles on your way?
A: The most difficult hill I had to climb was certainly my last year. It was busy; I was working on law school applications, my thesis, and staying involved with the George Washington Forum and my other classes. Then my mother passed away. The relationship I had built with Dr. Bernstein was essential in overcoming this difficult time. In some of our meetings, we took breaks from the dense and complicated thesis work to just talk. It relieved a lot of stress and also allowed me to deal with the death of my mother, without falling behind on applications, courses or my thesis.
School doesn't stop when life comes around, but having a resource within academia to deal with life's misfortunes is the best thing to do, I think.
Q: What are your favorite memories from OHIO?
A: My favorite memory from OHIO is the Honors Tutorial College graduation dinner. It was really nice to see my fellow graduates and to learn about the projects and theses they had completed and to learn what they needed to do next. Because many of us are in different disciplines, we lost sight of each other. Some teachers were there, and it was great to see them and thank them for all they had done for me over the years. It was a great way to complete my four years at Ohio University.
Q: What is one thing you would say to a new OHIO student not to miss?
A: I encourage new students at Ohio University not to miss opportunities for after-school clubs, activities, and academic opportunities. Even if you're very interested in what you're studying, like me, it's nice to take a break and engage with students from other disciplines. There are many clubs and groups on campus, it is certainly possible to find one for you. Attending public lectures is also a great way to take a break from your studies.