St Mary's Law School hosts Careers Night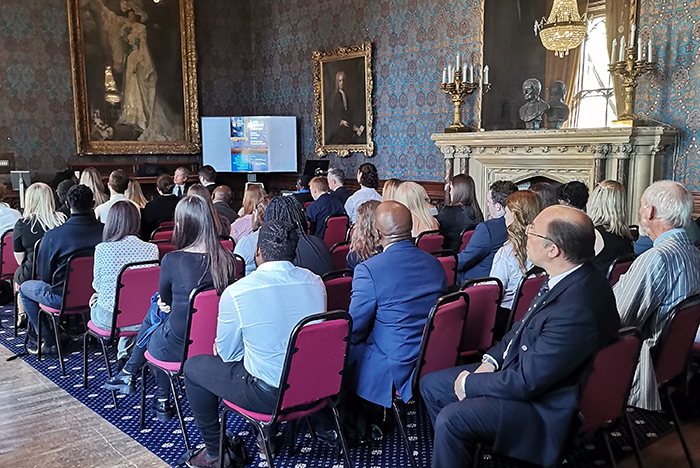 St Mary's University Law School, Twickenham recently held a careers night for students in the historic Waldegrave Suite.
The evening was split into two parts, a discussion between the Right Honorable Lord Justice Singh and HHJ Lodder QC on 'the unity of law', which was followed by a networking dinner with legal professionals.
The event marked the end of the school year and stimulated and stretched the students, both in their learning and in their career aspirations. The event aimed to show the many paths to a career in law and equip students with the networking skills needed to succeed in professional environments.
St Mary's Law School was delighted with the legal professionals who joined the networking dinner: Lord Justice Singh (Court of Appeal), Judge Lodder (Resident Judge Kingston Crown Court), Russell Conway (Senior Partner Oliver Fisher Solicitors), Shoshana Mitchell (Barrister, Normanton Chambers), Anthony Trace QC (Unity Legal Solutions), Cmdr Caila Barnett (Recruitment Officer, Navy), Andrew Browning (Academic Secretary and Head of Governance at St Mary's University, Twickenham), Millicent Grant QC (Hon) (former President of Cilex), Edward Hurley (Barriste, College Chambers), Pechate Mehehyong Recruitment Officer for the Met Police, Estella Newbold-Brown (Senior Partner, Stowe Solicitors), Jo Shortland (Senior Partner, Oliver Fisher Solicitors), Trevor D Sterling (Senior Partner Moore Barlow Solicitors and First Black Partner of a Top 100 Law Firm), Kiran Walia (Principal at Garner and Hancock Solicitors), Mark Watson-Gandy (Attorney , 3 Stone); and our amazing alumni Alex Dawson (lawyer DMH Stallard LLP), Harpreet Bains (lawyer CPS) and Eleanor Toomey (lawyer Jeffries Solicitor).
Students switched tables each class to provide an opportunity to network and connect with as many legal professionals as possible.